Recent Posts
1
« Last post by fanTCfool on Yesterday at 10:53:52 PM »
Returning
2
Figured I should post my team so I have it recorded somewhere when Sc open this week.

Def: Sicily, Docherty, Doedee, Roberton, S.Hill, Young, (Starcevich, Gould)

Mid: Macrae, Fyfe, Cripps, Dunkley, Coniglio, Rowell, Pickett, Hibberd, (McHenry, Bytel, Mead)

Ruck: Grundy, Gawn, (Conroy)

Fwd: Whitfield, Martin, Steven, Smith, KKP, Cockatoo, (Rankine, M.King)

Bank: $31,600.

Mid premos are nearly 100% locked. D1, F1 and F2 the positions that are up in the air.

Despite both more than likely being top 6 fwds, for some reason, I'm tentative to start both Whitfield and Martin. Whitfield's injuries really worry me (sole reason I'm not starting J.Kelly), and Martin's scoring is a rollercoaster ride.

Heeney is the one I'm really considering as F2.

D1 is out of Lloyd, Williams and Sicily.

I like the team structure. 2 premos, 2 mid pricers in def and fwd, with 2 high pri ed "rookies".
3
All seems quiet on the DT front. I wonder how many runners they will get this year.
4
2020 season is fast approaching, time to put on the ulta tight footy shorts and hit the pre season with vigour.
Just the two spots left, will fill with waiting list in a week or so.

Confirmed Coaches
Grazz
Enzedder
Ringo
Dazburg
Frankfaust
SydneyRox
Peter
Torpedo10
js19
axe9
GM
ants
Fid
FanTCfool
Rooboy85+
upthemaidens

Waiting list- tommy10
5
« Last post by Rooboy85+ on January 17, 2020, 08:58:32 PM »
Count me in for another year
6
« Last post by Peter on January 17, 2020, 05:39:33 PM »
Only issue is the cheapest of rookies being used - likely none of the 8 will play necessitating changes
7
« Last post by RaisyDaisy on January 17, 2020, 12:24:59 AM »
2nd team looks much better, even though the forward line is weak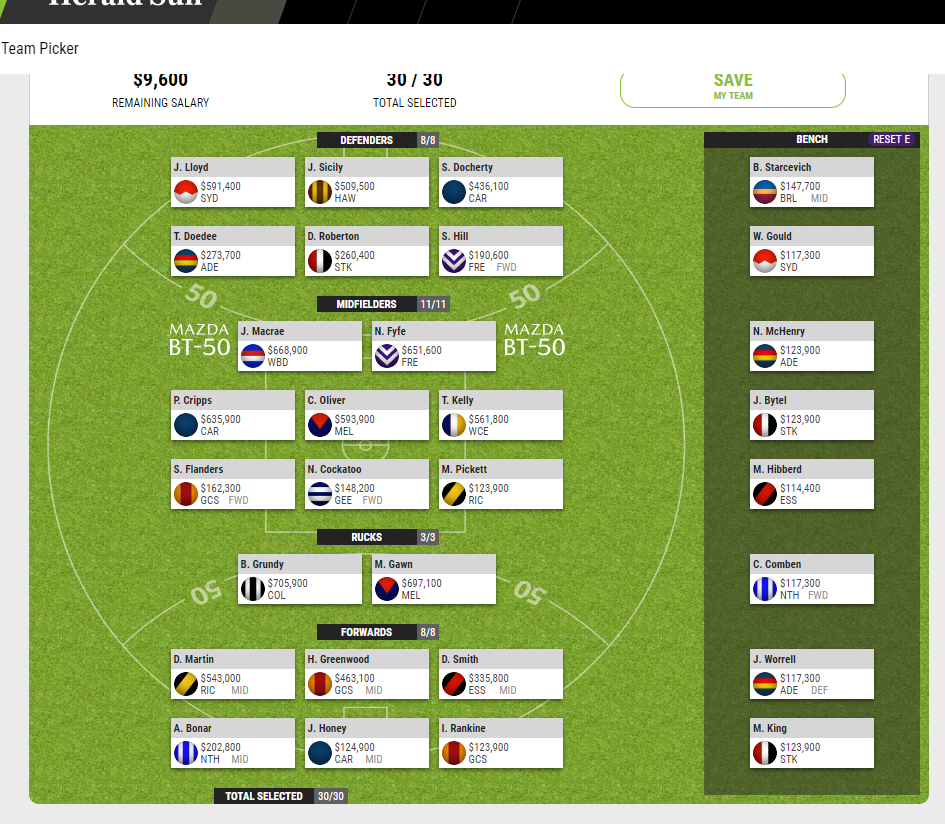 8
« Last post by nas on January 16, 2020, 11:52:40 PM »
Bears:

Retirements:

Jordan Lewis.

Delistings:

Aaron Young.
Rod Young.
Zac Langdon.
Scott Selwood.



Adding:
Jackson Thurlow. (Delisted)
Sam Mayes. (Delisted)
Ryan Lester. (Delisted)
Rhys Mathieson. (Delisted)

Oscar Baker. (Delisted)
Tom Sparrow. (Delisted)
9
« Last post by nas on January 16, 2020, 11:50:17 PM »
Trent Dumont + Nic Nat

For

James Sicily

Nas to confirm

I have solid mid and ruck stock and not so solid defensive stock

Confirmed as above.
10
« Last post by GoLions on January 16, 2020, 11:49:53 PM »
Crushers:
David Armitage
Jordan Roughead
Josh Schoenfield
Jacob Allison

Add Taylor Garner